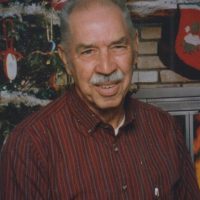 Marlen "Bud" Schultz, born January 29, 1921, departed this life for his eternal home, December 20, 2017, at BridgePointe Assisted Living facility in Vincennes. Bud was preceded in death by his father and mother, Ernest Frederick Schultz and Willelmina Minnie (Blubaum); his wife of  seventy – four years,  Glenn (Ready) Schultz; and three sisters, Virginia Davis, Wilma Wolfe, and Dee Holtman. Bud is survived by one sister, Betty Messer of Bruceville; three sons, Larry Schultz and his wife, Kaye, of Bicknell, David Schultz and his wife, Carolyn, of Avon, IN, and Bruce and Jarod Bruce of Tulsa, OK; five grandchildren, eleven great-grandchildren, and one great-great-grandchild.
     Bud was a retired farmer/truck driver/ school bus driver/Van Go driver. He wore many hats and enjoyed all of them, especially delivering the kids to school and all the senior citizens riding the Van Go bus.
     He was the co-founder of the Knox County Water Corporation, serving on its board until his death.
     Bud enjoyed singing both in quartets and in the choir at church. He was a Methodist Lay speaker and served the church in several capacities throughout his life.
     If you knew Bud, you knew he was an avid horseman. He could and would talk horses for hours. Aside from Mom, they were his therapy and brought a great deal of satisfaction to him trying to raise that special one! Countless hours were spent in the barn brushing and combing so they looked just right. He would saddle up and ride up and down the road by the hour and continued to show horses til he was well up in his eighties.
     He was a great story teller; his grand and great-grandkids were fascinated at some of the things he had done during his life. "Did you know grandpa could fly an airplane? Did you know he had gone on mission trips to the Bahamas, preaching and teaching? Did you know he got lost in the woods in the state of Washington? Did you know grandpa went deer hunting in New Mexico and didn't shave or take a bath for two weeks".
     He enjoyed his time at BridgePointe, as he had a "new" group of gals to tell stories to.
     He will be missed even though he was a "loner". He was a ROCK! His strength and steadfastness hopefully will stand his family in good sted as they move on without the "THE BUD!".
     Friends may visit with Bud's family from 4:00 – 8:00 on Wednesday, at Goodwin Funeral Home. His funeral service will be conducted at 12:00 on Thursday, at the funeral home. Interment will follow in the Bruceville Cemetery.
     In lieu of flowers, donations may be made to the Emison United Methodist Church. Online condolences may be sent to the family through goodwinfamilyfh.com.