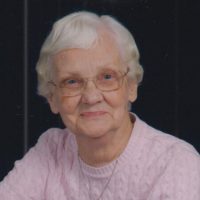 Virginia L. Andrews, 93, of Vincennes, IN, passed away July 10, 2018, at the Freelandville Community Home.
     Born July 16, 1924, in Henry County, IN, Virginia grew up in Mississippi. In her teen age years, the family moved to Decker, IN, and she graduated from Decker High School. She became a beautician and was the owner of Virginia's Beauty Shop. A member of the First Christian Church, Virginia tried to help improve the lives of others. She helped with Meals on Wheels, Generations, RSVP, the Pierre Pelican Program through the Samaritan Center, and volunteered with mailings at Vincennes University and Good Samaritan Hospital.
     Meeting on a blind date, Virginia married Roger Andrews on October 24, 1942. He passed away September 8, 1984. She was also preceded by her parents, Verlin and Charlotte (Nixon) Paul, and two brothers.
     Surviving are her children, Randa Brocksmith and her husband, Dr. Jerry Brocksmith, of Bicknell, IN, Janis Turner and her husband, Robert, of Vincennes, IN, Julie Booth and her husband, Brian, of Indianapolis, IN, and Dana Andrews of Noblesville, IN; her grandchildren, Dr. Baron   Brocksmith and his wife, Angie, Kurt Brocksmith and his wife, Barbara, Sarah Smith and her husband, Michael, Jill Bont and her husband, Nathan, Brianna Sharbough and her husband, Evan, Allyson Nastase and her husband, Nick, Aarron Turner and his wife, Wendy, Micah Turner and his wife, Melissa, and Joanna Laughary and her husband, Bradley; and 14 great-grandchildren.
     Per her request, Virginia's services will be held at Memorial Park Cemetery, on Friday, at 10:30, with her grandson-in-law, Pastor Evan Sharbough, officiating. Goodwin Funeral Home is assisting with these arrangements.
     In lieu of flowers, donations may be made to Helping His Hands or Good Samaritan Hospice. Online condolences may be sent to the family through goodwinfamilyfh.com.