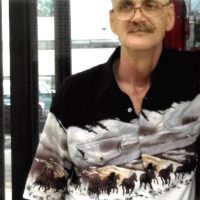 Chris Gilbert, 53, of Vincennes, passed away at 2:47 pm Tuesday, October 9, 2018 at his residence.
He was born March 6, 1965 in Conroe, Texas to Bobbie Gilbert and Virginia (Brookshire) Caldwell.
Chris worked as a general contractor, was a member of the Pentecostal church, and enjoyed NASCAR.
Surviving are his wife, Linda K. (Hartley) Gilbert, whom he married on June 5, 1999; his children, Melissa Maddox of Livingston, Texas, Tanja Gilbert of Vincennes, and Donald "D.J." Gilbert of Vincennes; his brothers and sisters; Virginia Loise Rodriguez of Tyler, TX, Douglas Brookshire of Pinehurst, TX, Kelly Berry of Conroe, TX, Rickey Harp of Jeanrette, LA, Bobby Gilbert Jr. of Tulsa, OK, Steve Gilbert of Porter, TX, Betty Box of Porter, TX, and Joyce Siegler of Porter, TX; and a grandchild, Athena Phillips.
He was preceded in death by his parents; a brother, Clayton Brookshire; and a grandson, Nathan Maddox Jr.
A Memorial service will be announced at a later time.  Goodwin Funeral is honored to serve the family of Chris Gilbert.