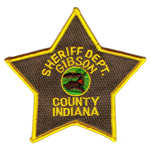 Three people were arrested in Princeton Saturday following an investigation into drug activity at a West Delaware Street address.
Officials arrested 37-year-old Corey Burton of Princeton, 29-year-old Kalin Deal of Princeton, and 29-year-old Christina Scott of Princeton.
Burton faces counts of resisting law enforcement and possession of paraphernalia. Deal and Scott each face a count of possession of a syringe.
Scott and Deal are being held on $750 bond at the Gibson County Jail while Burton is being held on $650 bond.