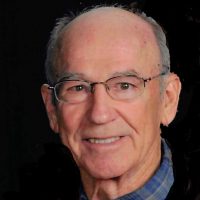 Paul Kenneth Wright passed from this life on Thursday, November 29.  He was 93 years old.  Paul was born in Greene County, Indiana on August 1, 1925.
His parents were Pierce and Cecile Wright.  They made their home, and raised their family, in Linton.
Paul graduated from Marco High School in 1943.  He was member of the varsity basketball team.
To help the war effort Paul enlisted in the Navy Air Corp through Wabash College in 1944.  He was in flight school on VJ (Victory over Japan) Day.  Paul was honorably discharged from active duty on May 6, 1946.
Paul returned home to Linton and met the love of his life Dorothy Breedlove.  Dorothy was a war widow with a two year old named Betty.  In 1950 Paul and Dorothy had one child, Kenny.
Paul moved his family to Vincennes in 1955 were he took a job with Western Southern Insurance.  Showing managerial skills, Paul moved up in the company eventually becoming regional manager over six district offices for Western Southern.  Paul retired from the insurance business in 1980.
After retirement Paul used his extensive construction skills to manage and operate a large rental property on Hart Street where he both lived and had tenants. 
On May 1, 2009 Paul married Mary G. Hackney.  She survives.
Paul loved life and had a strong faith.  He was a member of First Baptist Church where he served as Sunday school teacher and was on church committees.  He was an avid fisherman, camper and enjoyed boating.  He was an excellent carpenter and enjoyed remodeling and maintaining his property.
Paul is survived by his wife Mary, one brother Harold, and sister, June Reeves and step-daughter, Betty (Ron) Thomas.  Stepsons, Gary (Michelle), John (Sharon) and Darren Hackney and stepdaughter, Cindy (Mark) Cullison, also several grandchildren and great grandchildren, nieces and nephews.
Funeral services will be held at 10:00 am Monday, December 3, 2018 at Goodwin Funeral Home with Rev. John Hackney and Rev. Michael Ewert officiating. Visitation will be from 9:00 am until the start of the service.  Entombment will be in Tower Mausoleum at Memorial Park Cemetery. Goodwin Funeral Home is honored to serve Paul's family.