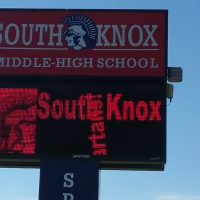 The South Knox Lady Spartans saw their season come to an end following a 46-41 loss against Eastern Pekin in the Semi-Finals of the Class 2A Regional at Paoli.
South Knox led by double figures in the earlier portion of the game and led by 3 at halftime 23-20. South Knox was outscored 26-18 in the second half to produce the 46-41 final.
South Knox was led by Hannah Ivers with 13 points. Lexi Detweiler chipped in 10.
The Lady Spartans finished their season 16-12.