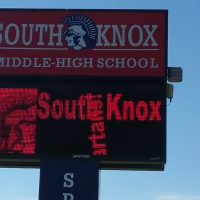 The South Knox School Board has approved a set of ten projects for work this summer. The most expensive project is installation of new tennis courts at the High School; the courts will cost 150-thousand dollars to put in place.
Other projects include replacement of H-V-A-C, air intake, and insulation units at South Knox Elementary; replacement of an H-V-A-C unit at South Knox High School; an upgrade of auditorium lighting; installing a new trophy case; refinishing of the main gym floor, and replacement of teacher desks and the Middle School sound system.
The cost of the projects total just under 500-thousand dollars. Board members approved the list unanimously.