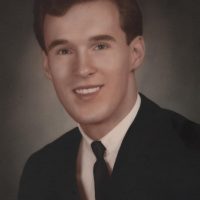 Richard "Dick" A. Sparenberg, 71, of Terre Haute, IN, and formerly of Vincennes, IN, passed away May 11, 2019, at his home.
Dick had been manager of the Duff's Smorgasbord in Terre Haute. He was an Army veteran, serving during the Vietnam War.
Born March 20, 1948, in Vincennes, IN, he was the son of Howard and Hazel (Adams) Sparenberg. His parents; his sister, Diana Kay Sparenberg; and his brother, Jim Sparenberg preceded him.
Surviving is his wife, Margaret (Vieke) Sparenberg of Terre Haute, IN; his children, Diana Kay Hunter and her husband, David, of Fishers, IN, Christopher A. Sparenberg and his wife, Ashley, of Terre Haute, IN, and Natalie Millington and her husband, Jeff, of Terre Haute, IN; his sister, Linda Barth of Evansville, IN; his brothers, Jerry Sparenberg of Muncie, IN, and David Sparenberg of Linwood, NJ; and his grandchildren, Avery Sparenberg, Hanah Sparenberg, Grace Hunter, Morgan Sparenberg, Nate Millington, Ava Hunter, Chase Millington, Luke Millington, Mason Hunter, and Bryce Millington.
Friends may visit with Dick's family from 4:00 – 7:00 on Thursday,         at Goodwin Funeral Home, 524 Broadway, Vincennes, IN. A celebration of his life will follow at 7:00, at the funeral home.
Online condolences may be sent to the family through goodwinfamilyfh.com.