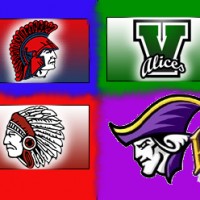 The Vincennes Lincoln freshman football team improved to 2 and oh with a 28-12 win over Northview. Jackson Johnson rushed for two touchdowns, Zach Steffey scored on a TD run and tossed a touchdown pass to Luke Tolliver. Steffey also connected on two, two point conversion passes to Colin Jackson.
The South Knox golf team won a four team match at the Sullivan elks. The Lady Spartans had a 190, North Knox 216, Sullivan 223, Clay City 233. Medalist for the match was Trinity Dubbs of South Knox with a 38.
The Lincoln tennis team lost to North Daviess 4-1. The lone Lincoln point came from the number one doubles team of Kyle Stenger and Landon Alstadt.
The Lincoln girls soccer team lost to visiting Evansville Day School 7-1. Anna Pattricio scored the only Lincoln goal on an assist from Sierra Mullins. The Lady Alices fall to 2-3.