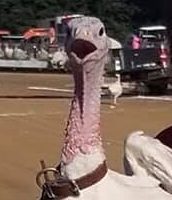 The 2019 Montgomery Turkey Trot festival kicked off last night in Daviess County at the Ruitan Park. Activities continue through the weekend.
Tonight at the Turkey Trot, Carnival rides open up at 5 and are free with paid admission. At 6:30, Turkey Race heats will take place. At 8 PM, Ned Ledoux will take the stage. Wrapping up the day from 10P until 1A is the Trey Hughes Band in the Garden.
Tomorrow, Open Horse Pulls get underway at 10:30 AM with carnival rides opening at 11. A Co-Ed Mud Volleyball tournament starts at 11:30 with a cornhole tournament starting at 12-noon. Also at noon, a Texas Hold-em poker tournament will start at the annex building and at 1:30, a pedal tractor pull will also take place in the annex. At 6:30 PM, Turkey Race semi-finals will take place at the track and at 8 PM, Country Music Artist Tracy Lawrence will take the stage. A DJ will be at the beer garden from 10PM until 1AM to wrap up Saturday.
The Turkey Trot Runs thru Sunday. The individual price for Friday and Saturday is $20 each day.