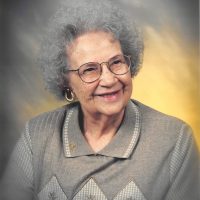 Alberta V. Cunningham, 95, of Vincennes, passed away at 2:24 pm Monday, October 7, 2019 at BridgePointe Health Campus.
She was born August 18, 1924 in Vincennes to Raymond Charles and Inez (Bennett) Cunningham.
Surviving are her children Sam Cunningham of Vincennes, Kay Halter and her husband Dick of Vincennes; her granddaughters Samantha Cunningham of Vincennes, Dana Greenwood and her husband Kevin of Vincennes and Kelly Yurkain and her husband Joe of Ft. Wayne; a great granddaughter Hannah Greenwood of Vincennes; her step great grandsons, Patrick and Bradley Yurkanin of Fort Wayne; and a half brother Rick Cleghorn of Farmersburg.
She was preceded in death by her parents; and her husband, Elmer Cunningham.
Graveside services will be held at 2:45 pm Thursday, October 10, 2019 at Memorial Park Cemetery with Dr. Georg Karl officiating.  Visitation will be held from 1:30 to 2:30 at Goodwin Funeral Home before the graveside.  Memorial contributions may be made to the choice of the donor.  Goodwin Funeral Home is honored to serve the family of Alberta Cunningham.