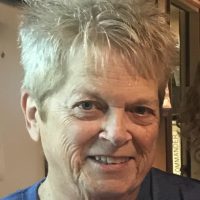 Connie Sue Turner, 67, of Monroe City, passed away at 2:05 pm Friday, November 29, 2019 at Good Samaritan Hospital.
She was born November 19, 1952 in Knox County, Indiana to Richard Wayne and Betty Ann (Shoultz) Lanning.
Connie worked in civil service in Norfolk, Virginia and also for Wabash Valley Food Services. She enjoyed bowling, bingo, and was a member of the V.F.W. #1157 Ladies Auxiliary.
Surviving are her husband Charles Turner whom she married on December 16, 1978 ; her daughter Stacy Rothwell and her husband Larry of Virginia Beach, VA; her two grandchildren, Carson and Grace Rothwell; her sister in law, Lois Lanning of Vincennes; two nephews Brian Lanning of Vincennes and his family, and Jeffrey Lanning of Nashville; and an aunt Nancy Battleson of Columbus, IN.
She was preceded in death by her parents; her son Michael Turner; and a brother Steve Lanning.
Friends may visit from 4-7 pm Thursday, December 5, 2019 at Goodwin Funeral Home where a V.F.W. Ladies Auxiliary service will be held at 6:30 pm.  Burial will be held at a later time in Hamline Chapel Cemetery.  Memorial contributions may be made to the American Heart Association or the Susan G. Komen Foundation.  Goodwin Funeral Home is honored to serve the family of Connie Turner