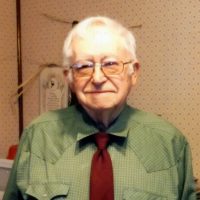 Robert J. Kramer, 93, of Vincennes, passed away with his loving family by his side at 1:10 pm on Friday, January 10, 2020 at Bridge Pointe Health Care Campus.  He lived life to the fullest everyday until his fall August 2019 and knew no stranger.
He was born September 11, 1926 in Knox County Indiana to Henry and Josephine (Vieck) Kramer.  Robert was raised on a farm by St. Thomas and attended St. Thomas School until his mother passed when he was 17.  He then helped his dad farm and raise his 6 siblings.
Robert married the love of his life, his sweetheart of 53 years, Louella (Bouchie) Kramer on February 8, 1949.  They loved going to dances with their friends and traveling to flea markets until her death in February 2002.
Bob, as he was known to many, loved to dance, laugh, and tell his "stories".  He was very proud of, and known for, his famous sausage gravy for the Fire Department.  He was a retired volunteer fireman and a retiree from McCormick's Inc. and the Vincennes Community School Corporation, where he was a maintenance worker for both.  Robert was a member of the Moose Lodge, American Legion, Eagles Lodge (where he was officer), Knights of Columbus (3rd degree member), Fraternal Order of Police, and Indiana Volunteer Fire Department Association.  He was also a 35 year elected officer of the Vincennes Township Trustee Board and an original member of the Civil Defense.  Robert was a member of St. John's Catholic Church.
Surviving are his children, Paul Kramer (companion Carol Carlson) and Diana (Thomas) Baker, both of Vincennes; sister Monica Carie of Vincennes; sister in law Pat Kramer of Vincennes; grandchildren, Stacie (Randy) Tabler of Vincennes, Troy (Amy) Bezy of Haubstadt, and Sandee McKnight (companion Robert Cardinal); great grandchildren, Garrett (Leah) McCray, Kristen Tabler, Blaine Tabler, Morgan Bezy, Tyler Bezy, and Kaleigh McKnight; great-great grandchildren, Mila and Remi McCray; along with many cousins, nieces and nephews and cherished friends.
He was preceded in death by his wife Louella Kramer; brothers Raymond Kramer, Olan Kramer, Wilfred Kramer, and Richard Kramer and sister Hilda McGowen.
A Mass of Christian Burial will be held at 10:00 am Tuesday, January 14, 2020 at St. John's Catholic Church with Father Simon Natha celebrating.  Burial will follow in the Mt. Calvary Catholic Cemetery.  Visitation will be from 4-8 pm Monday, January 13th  at Gardner-Brockman Funeral Home, 505 Main St, Vincennes. There also will be IVFA memorial service starting at 7:00 pm on Monday at the funeral home. Memorial contributions may be made to the Vincennes Township Fire Department, 1265 S. Hart St. Road, Vincennes, IN 47591.