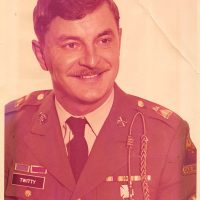 Ronald D. Twitty, 72, of Oaktown, passed away at 5:15 pm Friday, January 10, 2020 at Methodist Hospital in Indianapolis.
He was born July 17, 1947 in Vincennes, Indiana to Earl and Agnes (Cobb) Twitty.
Ron retired after 22 years as a staff sergeant in the Army. A Vietnam veteran, he served three tours in Vietnam and was a member of the American Legion. He also had worked for the Knox County Work Release and at the Carlisle prison.
Surviving are his wife Yong (Cha) Twitty whom he married in 1985; his brother Jay Twitty and his wife Amy of Vincennes; nieces, Tiffany Conover and Sarah Hernandez; a nephew Matthew Twitty; and a step-nephew Billy Slater.
He was preceded in death by his parents, and a brother Tracy Twitty.
Funeral services will be held at 2:00 pm Wednesday. January 15, 2020 at Goodwin Funeral Home.  Burial will follow in the Memorial Park Cemetery. There will be no visitation.