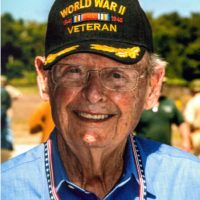 Edward A. Robbins, 93, of Vincennes went to join his fellow WWII Navy shipmates aboard the LST70 on March 12, 2020. He was the last surviving sailor from the ship.
Ed was born January 2, 1927 in Akron, Ohio to Hubert and Ruth Robbins. Growing up in Cleveland, he spent his summers working at the Indians ballpark. He would become a lifelong Cleveland sports fan and yes, even the Browns. As a seventeen-year-old student at East High School in Cleveland, he "misrepresented" his age in order to join the Navy. Following basic training at the Great Lakes Naval Center in Chicago, Illinois; he was shipped to the China sea. There he was assigned to the USS LST70 as a gunner mate. Nightly bombings by Kamikaze pilots and torpedoes were part of life. During one torpedo strike, thirteen seamen were killed. He was fortunate to witness six marines raising the flag on Iwo Jima, Subsequent battles for Okinawa and the Philippines would ensue. In April of 1946 as the Rank Gunners Mate 2nd class, he was discharged.
Ed returned to Ohio and earned an Associate's Degree in Accounting from Ohio University. But when the country needed him again Ed responded. During the Korean War he went back into the military but this time it was the Army. He was promoted to Platoon Squad leader and was attached to the 443rd battalion in Germany. He had attained the rank of Master Sergeant upon his discharge. Ed proudly served his country when it was needed not just when it was convenient.
Ed's professional career consisted 30 years with Western-Southern Life Insurance Company. He and his family relocated to Vincennes in 1966 and retired as District Manager over the Southwest Indiana Territory.
He is survived by his daughter Jill Feichter and her husband Tom, Jan Wissel and her husband Robert, and Penny Robbins; step daughter Suzan Langlois and her husband Charles; his step son Scott Lenahan; granddaughters Linsey and Kendra Wissel, Ashley Snead and her husband Steve; grandson Andrew Feichter; step granddaughter Jennifer Coursey and her husband Rob; as well as three great grandchildren and long-time companion Judith Cook.
He was proceeded in death by his wife Patricia Robbins; his parents; his brother Howard Robbins; and his sister Dorothy Brenner.
Visitation will be Wednesday March 18, 2020 from 1:00 – 3:00PM at Goodwin-Sievers Funeral Home, 524 Broadway, Vincennes. Graveside services will be held at 3:15PM at Mt. Calvary Catholic Cemetery.
A Celebration of Life of Ed's life and service to his country will take place at the Indiana Military Museum immediately following the graveside service.
In lieu of flowers the family requests that donations be made to the Indiana Military Museum. Goodwin-Sievers Funeral Home is honored to serve the family of Edward A. Robbins.