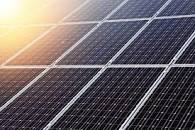 The Knox County Area Plan Commission spent over 90 minutes last night making modifications for a solar plant ordinance.  The ordinance would cover a plant to be installed by Tenaska, along State Road 61 in Knox County near the White River, north of Petersburg.
A-P-C members reviewed several areas on the first draft.  The issues include impact on nearby neighbors, setbacks from rights of way on nearby roads, and various issues concerning later decommissioning.
The next scheduled session concerning the solar ordinance will be with the Knox County Council.  That session is set for Tuesday, July 14th.