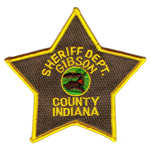 A Patoka Woman is behind bars after a call to a disturbance at a residence in Patoka.
At 5:51 PM, deputies were called out to a residence in the 5500 Block of Old US 41. The complainant told authorities that they had been physically assaulted by 47-year-old Christine Hall. Upon further investigation into the incident, officials took Hall into custody.
Hall faces a count of battery in the presence of a child. She has since posted $750 bond.
Indiana State Police assisted in the investigation.