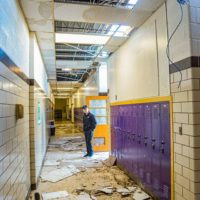 COVID-19 and Severe Weather have made things interesting with the Vincennes Catholic Schools, but Janice Jones, Principal of Vincennes Rivet stopped by the Knox County Today Program on Wednesday. Jones said that the school is structurally sound after the violent storms of April 8th.
Officials with the Vincennes Catholic Schools talked about getting portable classrooms for the students, but upon learning about the structure being sound, officials decided to keep the kids on campus. Students were already out of school because of the COVID-19 Pandemic. Jones mentioned that if it was in God's plans for the storm damage to happen, it couldn't have been at a better time.
The Gym also had some damage to its roof, but has since been repaired. Reconstruction of the 2nd floor damage has not started yet. Vincennes Catholic Schools are set to return on August 13th.