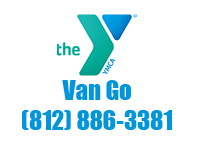 The Vincennes Van Go Transportation System is slated to get over $1.28 Million dollars in funding for the next 18 months for the city's public transit system.
At the Knox County Commissioners Meeting Tuesday, Joel Sievers and Pat Herman, both representing VanGo were on hand. They were talking about their normal grant funding that they get for the county. Sievers mentioned that the Cares Act would be giving them the money, meaning that they may not need a matching grant from Knox County, saving some money for county taxpayers.
According to Sievers, ridership has been as low as 15% due to the COVID-19 Pandemic. As of Tuesday, ridership was around 60% of normal. Sievers also believes ridership will return closer to normal as schools and businesses open back up.
The $1.28 million Is for the next 18 months. In the past, INDOT for transportation funds required a local match. Overall, the group's budget for 2020 had $827,380 in funding.