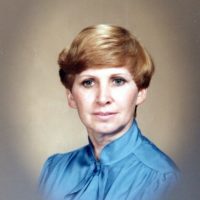 Carol J. Walton, 83, passed away at 9:02 am on July 27, 2020 at Good Samaritan Hospital. Carol was born on March 14, 1937 in Vincennes the daughter of Marion and Inadeen (Haggard) Dardeen. She married Charles "Shorty" Walton on December 16, 1955 and he preceded her in death on March 7, 2016.
Carol was a member of First Church of God and worked in various departments at Good Samaritan Hospital. She retired at the age of 80 from Dr. Ralph Stewarts office. Carol had been a member of ABWA, loved gardening and enjoyed to travel with her husband Shorty. She also enjoyed painting, art and antiques. Carol was a true prayer warrior, was generous and loved people and her family with great passion. But more than anything, she loved to worship and express her love for the Lord.
Survivors include her daughter, Deb Kehl and her husband Barry of Westfield, IN; son, Steve Walton and his wife Abbie of Kissimmee, FL; brothers, Larry Dardeen of Indianpolis, IN, Eddie Carie and his wife Sharon of Plant City, FL; her grandchildren, Spencer Barmes, Aaron Walton, Josh Kehl, Charlie Walton and Carol Walton. Carol was preceded in death by her parents, her husband Charles "Shorty" Walton and a sister, Betty Crowley.
Friends may visit with Carol's family from 11:00 am until 1:00 pm on Friday, July 31, 2020 at Goodwin-Sievers Funeral Home, 524 Broadway, Vincennes, IN. A graveside service will be held at 1:30 pm on Friday at Memorial Park Cemetery with Danny Crowley officiating. On line memories may be shared with Carol's family and friends at www.goodwinsieversfh.com. Memorial contributions may be made Good Samaritan Hospital Foundation Breast Care Center, 520 S. 7th St., Vincennes, IN 47591. Goodwin-Sievers Funeral Home is honored to assist the Walton family with arrangements.