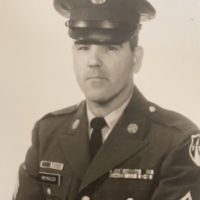 Donald Reynolds, 87 of Freelandville, went to his heavenly home on January 9, 2021.
Donald was born July 23, 1933 in Peterborough, NH son to the late Forest Reynolds and Mary (Sandborn) Reynolds.
Donald was a member of Morris Chapel Church, American Legion,  N.A.U.S and served for over 42 years on Freelandville Vol Fire Department. Donald also proudly served his country in the United States Army for 20 years; he served in the Vietnam and Korean War and retiring as a Staff Sergeant.
Donald is survived by; loving children, Debbie Reynolds,  Patrick Reynolds (LauraLee), and Courtney Gray (Matthew); 6 grandchildren, Samantha Reynolds, Hunter Reynolds, Nataly Reynolds, Jerald Reynolds, Alexander James Gray, and Jordan Hayes; 1 great-grandchild, Grady Hayes; and several nieces and nephews.
He was preceded in death by; his parents; a son, Jerald Reynolds; 1 grandson, Garrett Reynolds, 1 sister, and 5 brothers.
Visitation will be Sunday, January 17, 2021 from 4:00 P.M. until 7:00 P.M. at Fredrick McClure-Utt Funeral Homes, Bicknell Chapel, a service will follow on Monday at 10:00 A.M. also at the funeral home. In lieu of flowers memorial contributions may be made in Donald's memory to the Freelandville Vol fire dept. or Wounded Warriors Fund.
Burial will be in Bethel Cemetery of Freelandville. You may leave an online condolence at www.fredrickandson.com.