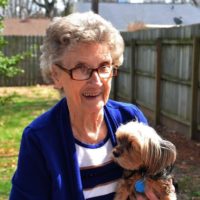 Doris M. Morris, 88, of Vincennes, IN, passed away Feb. 17, 2021, at Deaconess Gateway Hospital.
Doris was a 1950 graduate of Lincoln High School. She had worked at Piper's Grocery Store, Landrey's, and Dairy Queen. A member of the First Church of the Nazarene, she taught Children's Sunday School for 35 years. Doris also served as a Pink Lady at Good Samaritan Hospital.
Surviving are her children, Debra Morris – Hennon of St. Francisville, IL, Beverly Carie of Vincennes, IN, Mary Hazelman and her husband, Sid, of Vincennes, IN, Beth Carter and her husband, John, of Vincennes, IN, and Michael Morris and his wife, Julie, of Vincennes, IN; her sisters, Carol Banta of Texas and Patty Knoblett of Robinson, IL; her grandchildren, Keith Haskins, Nicholas Carie, Molly Carie, Cody Gilbert, Jenna Masters, Bryant Hazelman, Tim Griggs, Josh Griggs, Amber Hostetter-Smith, Cory Hostetter, Morgan Morris-Halter, and Christine Morris; and her great-grandchildren, Gavin Haskins, Carli Haskins, Keith Haskins, Summer Haskins, Ashton Carie, Sophie Carie, Miley Carie-Fredrick, Mattie Carie-McCormick, Natalie Griggs, Norah Griggs, Drake Griggs, Hallie Halter, Sadie Gilbert, Greyson Gilbert, Kyler Hostetter, Eli Hostetter, Drake Masters, Paxton Masters, Mac Masters, McKenzie Hazelman, and Lyrric Hazelman.
Born September 12, 1932, in Vincennes, IN, she was the daughter of Clifford C. and Cecil (Ewing) Collins. Her parents; her husband, Glenn J. Morris whom she married May 9, 1953 and who passed away August 6, 2008; her daughter, Sarah Griggs; her granddaughter, Shanna Haskins; her sisters, Beth Piper, Nelda Winkler, Betty Simpson, Joan Frey, and Sharon Collins; and her brothers, Cleve, Jim, Marion, Bob and Bill Collins.
Friends may visit with Doris's family from 10:00 – 12:00 on Saturday, at the First Church of the Nazarene, 19th and Main, Vincennes, IN. The funeral will begin at noon on Saturday, at the church. Burial will follow in Memorial Park Cemetery. Goodwin-Sievers Funeral Home is assisting with the arrangements.
Donations may be made to the First Church of the Nazarene. Online memories may be shared with the family at goodwinsieversfh.com.