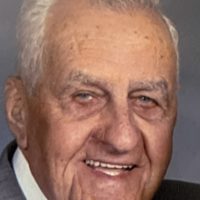 Clifford Charles Sturgeon, 94, of Bicknell, passed away at home on Saturday, May 29. Born on November 13, 1926, in Westphalia, he was the son of Lou and Myrtle (Morris)Sturgeon, and brother of Dean and Wanda Sturgeon, all of whom preceded him in death. He attended Westphalia Schools, leaving to work at Barr's Elevator to provide for the family at the young age of 13.
Growing up in the Great Depression instilled in him a deep work ethic and compassion for his fellow neighbors. Not one to sit still, he loved tinkering in his garage, looking under the hood of the latest car and riding one of his many lawnmowers to keep his yard looking pristine.
He always had a fascination with cars and motorcycles, and in his early 20s left the coal mines of Bicknell to pursue a career in automotive repair in Michigan City. He eventually owned and operated George's Auto Shop, along with his brother, where they helped thousands of faithful customers over 20 years.
He married the great love of his life, Celia Goodman, on November 26, 1944. They were together for 72 years until her passing in 2017. They eventually settled in Michigan City, Indiana, where they lived for 37 years and raised three daughters. His girls were his world and he demonstrated that by always checking their cars' oil, mowing their lawns or building bird houses.
Upon retirement, they returned to Bicknell. His best days would be mowing the yard, visiting with neighbors, picking a tomato from David's garden and swinging with Celia in the evenings with an iced tea in hand. He became a member of the French Club in 2019 where he enjoyed playing pool.
He was a generous man and would drop everything if there was a friend in need. He loved to reminisce about the old days while appreciating all that he had in the present.
He had a quick wit, a great smile and an enduring love for his family. He was a loving husband and father, and a doting grandfather and great-grandfather. He will be greatly missed.
He was preceded in death by his wife, Celia Goodman-Sturgeon; parents Lou and Myrtle Sturgeon; brother Dean Sturgeon; sister Wanda Sturgeon; and son-in-laws, Robert "Bob" Ferguson and Raymond Martin.
He is survived by daughters, Joan Sturgeon Martin, Bicknell; Regina Sturgeon (Rusty Corbin), Bicknell; and Janet Sturgeon Ferguson, Bicknell; grandchildren David Henrich, Rolling Prairie, IN; Denice Henrich (Drew Milizia), Essex Junction, Vermont; Daniel Henrich (Lisa), Three Oaks, MI; Sharon Martin (David Howell), Morgantown, WV; Michael Martin (Jill), Charlotte, NC; step-grandson Rob Ferguson (Ana), Schaumburg, IL; and step-granddaughter Donna Ferguson-Phillos, Des Plaines, IL. He is also survived by 5 great-grandchildren, 5 great-great grandchildren, and numerous nieces, nephews and friends.
Visitation will be held on Thursday, June 3, 2021 from 1-2 p.m. at Fredrick and Son McClure-Utt Funeral Home in Bicknell. Funeral services will begin at 2 p.m. with Pastor Matt Hoffman officiating. He will be laid to rest at Edwardsport Town Cemetery.
To send flowers to the family or plant a tree in memory of Clifford Charles Sturgeon, please visit our floral store.