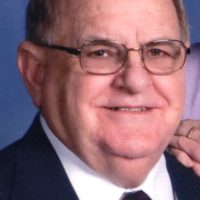 Galen L. Clodfelter, 80, of Vincennes, IN, passed away July 16, 2021, at Deaconess Gateway Hospital in Newburgh, IN.
Galen was retired from Good Samaritan Hospital, where he had served as Director of the Blood Bank. A member of Community United Methodist Church, he was active in the community for many years. A member of Jaycees and the TPA, he was a past president of the Lincoln High School Band Boosters. When the Red Skelton Museum received the donations from the Skelton family, Galen helped to organize those many items. He was a Colt League baseball coach, and assisted with the prison ministry at the Carlisle Prison.
He received his Bachelor of Science degree from Eastern Illinois University.
Surviving is his daughter,  Cheryl Meyer and her husband, Eric, of Vincennes, IN; his son, Chris Clodfelter and his wife, Kimberly, of Evansville, IN; his sister Lois Wagly and her husband, Larry, of Phoenix, AZ; his grandchildren, whose many activities he enjoyed through the years, Zane Clodfelter of Evansville, IN, Rae Marissa Zirkelbach and her husband, Warren, of Evansville, IN, Will Meyer of Vincennes, IN, and Hannah Shields and her husband, Nyal, of Vincennes, IN; and his great-grandson, whom he spent as much time with as he could, Barrett Andrew Zirkelbach.
Born February 13, 1941, in Olney, IL, he was the son of Clifton and Ruth Ellen (Matthes) Clodfelter. His parents; his wife, Sondra (Brinkley), Clodfelter, whom he married February 13, 1941, and who passed away December 13, 2017; and his sister and her husband, Roena and Raleigh Baker, preceded him.
Friends may visit with Galen's family from 4:00 – 8:00 EDT on Monday, at the Goodwin-Sievers Funeral Home, 524 Broadway, Vincennes, IN and from 9:30 – 10:30 Tuesday, EDT, at Community Methodist Church, 1548 S. Hart Street Road, Vincennes, IN. The funeral will be held at Community United Methodist Church, on Tuesday, at 10:30 EDT. Burial will follow in Memorial Park Cemetery.
Donations may be made to Community United Methodist Church, or to the church's memory garden. Online memories may be shared with the family through goodwinfamilyfh.com.