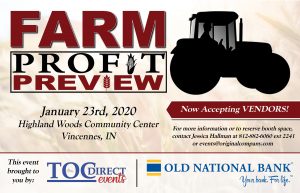 January 23rd, 2020  /  7a – 2p

Highland Woods Community Center / Vincennes, IN
Vendors:

Good Samaritan Hospital
Free Labs – lipids, GFR, glucose, and PSA. Also, GSH will do bp's/pulsox and Grip strength.
Best One Tire- Farm Family of the Year Sponsor
Hulsman Refrigeration
German American
Ceres Solution
Hurricane Ditcher
Miracle-Ear
Alliance Tractor
Bestway Express
DC Metal
Back 2 Health
Beacon Ag
Boberg Crop Insurance
Good Samaritan Community Health
Hometown Hearing
Vincennes Truck Supply
South Knox FFA
Illiana Irrigation
Stine Seed
Vincennes Historic Farmers Market
Andersat
Culligan
Kiesel Enterprises
Big Iron Auctions
Tammy Wilson- State Farm
Win Energy
ICS Consulting Service
Carbo- Tech America
CFCO
Knox County Realty – John Witshork
___________________________________________________________
Chemical Certification classes will be offered from 11am-1pm   ($10 per person)
Doors open to the public at 7am
8a-9:30 – FREE breakfast catered by Carla's Catering
11am-1pm –  Donation based lunched will be served
1pm-2pm – Farm Stress Program provided by the Purdue Extension Office
2pm –  Farm Family of the Year Presentation
If you are interested in securing your vendor booth, please contact Jessica Hallman at events@originalcompany.com.