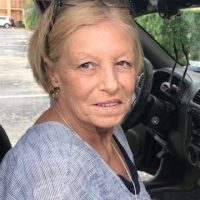 Kimberly A. Moody, 60 passed away at her residence at 1:30 pm on December 10, 2018. Kimberly was born on November 3, 1958 in Niskayuna, NY. She married Samuel Moody on December 22, 1989 and he preceded her in death on August 21, 2017.
Kimberly never let her disability keep her down. She was always giving to others and showed this in being a foster parent of special needs children. Kimberly was always giving back to her family and helped take care of her nieces, nephews and her mother. She also enjoyed crocheting and shopping.
Survivors include her mother, Maxine Felthousen of Vincennes; father, Gary Tracy of Calhoun, GA; sisters, Denise Cain of Vincennes, Sandra Crawford of Florida, Colleen Russell of Vincennes, Shannon Hudson and her husband Brad of Oaktown, Melissa Terry and her husband Eric of Winston Salem, NC; brothers, Greg Tracy of South Beliot, IL, Jim Swart and his wife Stacy of Winston Salem, NC; granddaughter Rochelle Gillet of Mechanicsville, NY and many nieces and nephews. Kimberly was preceded in death by her husband Sam Moody, son, Prentiss Gillett, and her brother Rick Brady.
A memorial service will be held at 4:00 pm on Thursday, December 13, 2018 at Goodwin Funeral Home, 524 Broadway with Pastor Trevor Murry officiating. On line memories may be shared with Kimberly's family and friends at www.goodwinfamilyfh.com. Goodwin Funeral Home is honored to assist the Moody family with arrangements.