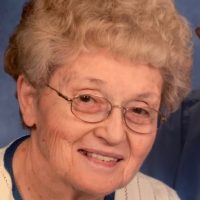 Kara Lee Johanningsmeier, 86, of Sandborn, passed away February 21, 2019, at Glenburn Home in Linton.  Kara was born Sunday, October 9, 1932, in Logan County, Kentucky, the daughter of K.V. and Jessie (Gilliam) Stewart. She married Donald Johanningsmeier November 7, 1954. Kara retired from S & W Telephone Company. She was a member of the Bethel Ladies Guild and Bethel Church.
Kara is survived by her husband, Don; children Wayne A. (Beth) Johanningsmeier of Floyds Knobs, IN,  Belinda G. (Steve) Sanders of Sandborn, IN, brother, Rhea Stewart; six grandchildren, Scott (Jennifer) Johanningsmeier, Susan (Ben) Smith, Lisa Johanningsmeier, Brian (Erin) Sanders, Kelli (Carl) Thoele, and Craig (Jenna) Sanders, and eight great-grandchildren. She was preceded in death by her parents.
Visitation will be Sunday, February 24,  2019, from 5:00 P.M. to 8:00 P.M. at the Bethel Church in Freelandville.
Service will be 10 A.M. Monday, February 25, 2019, also at the Bethel Church with Mike DeCoursey officiating. Burial will be in the Sandborn Cemetery following the service.
Fredrick and Son McClure-Utt Funeral Home Bicknell Chapel handled the arrangements. Online condolences may be made at www.fredrickandson.com.