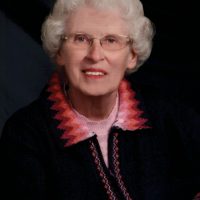 Donna Beeson, 85, of Winona Lake, Ind., and a longtime resident of Vincennes, Ind., died Wednesday, May 1, 2019.
Donna was born March 25, 1934, in Hartford City, Ind., the daughter of Elwood and Geneva (Whybrew) Farr. She graduated from Hartford City High School in 1952 and worked at the Free Methodist denominational headquarters in Winona Lake before marrying Robert Beeson on April 24, 1955.
Donna and Bob gave birth to children Lynelle and Duane and lived in Hartford City and Fort Wayne before settling in Vincennes in 1967. Donna was a homemaker and aide in the public school system before becoming an assistant in the Lewis Historical Library at Vincennes University, where she enjoyed helping many people research their family history. She edited the Northwest Trail Tracer for the Northwest Territory Genealogical Society for many years and volunteered at the Knox County Public Library's McGrady Brockman House.
She was very active in the Free Methodist Church, singing in the choir, helping with the children's ministry, serving in many behind-the-scenes roles and volunteering in the office.
Bob died Dec. 6, 2012. Donna moved to Winona Lake on April 4, 2019, to be closer to family.
Survivors include two children, Lynelle Vogel and her husband Doug of Winona Lake, and Duane Beeson and his wife Aletha of Orange City, Iowa; six grandchildren, Caleb Vogel, Malea (Evan) Stoesz, Marisa (Trenton) Crofts, Miriam Vogel, Jenna Beeson and Annalise Beeson; sisters-in-law Jennie Hiam, Betty Marshall, Patsy Beeson, Roberta Bockover and Rosemary Bockover Elliott; and brother-in-law Cecil (Debbie) Beeson.
Among the relatives who preceded her in death are her parents; husband; and step-mother, Mable Farr.
There will be a memorial service on Monday, May 6, at 1 p.m., at Goodwin Family Funeral Home in Vincennes with the Rev. Dr. Michael Ewert officiating. Burial will follow in the Memorial Park Cemetery. Visitation with the family will be before the service, from 11 a.m. to 1 p.m., at the funeral home. Memorial gifts will be directed to the Free Methodist Church.