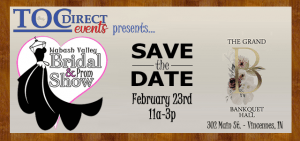 Sunday, February 23rd, 2020, 11 AM – 3PM
The Grand Bankquet Hall  – 302 Main St. Vincennes 
• Bridal and party related products and services will be on display
• Free to enter, Free parking, Free door prizes!! Brides to be will have a chance to win a FREE honeymoon trip to Myrtle Beach!  (must be present to win) 
• Sponsored by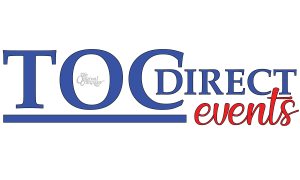 Vendors: 
JENNA'S BAKEHOUSE
CROSS ROADS PHOTO BOOTH
SIMPLE TO ELEGANT
VALLEY PARTY SUPPLY
GERMAN AMERICAN BANK
PRETTY POSIES
FULL RANGE ENTERTAINMENT
AMBASSADOR TRAVEL
FIRST VINCENNES SAVINGS BANK
KNOX COUNTY REALTY – JOHN WITSHORK
PEARL & CHROME
THE GRAND BANKQUET HALL
CARLA'S CATERING
SUN TAN CITY
GOOD SAMARITAN SKIN SPA
BLOSSOM HILL
WILLIE'S PUB
MORNING STUDIOS
TASTEFULLY SIMPLE/ CATHY MCKOWN
BACK 2 HEALTH
TRAVEL SMART
OFF THE RECORD SOUND SYSTEMS
ESSENTIAL BODYWEAR
LAWLESS DJ SERVICE
DJ SUBSONIC
THE STUDIO
RED LOBSTER
BETH CARTER BRIDAL
SMILE DOCTORS
OUI AESTHETICS & WELLNESS
BAUERHAUS CATERING AND PASTRIES 
MEIER WINERY & VINEYARD
WALMART GROCERY PICKUP 
ARTISTIC IMAGERY
WINDY KNOLL WINERY
FORDS PHOTOGRAPHY
It's not too late!  Your business can have a booth at the Wabash Valley Bridal & Prom Showcase.  Prizes will be given away throughout the event.  Another great crowd of brides, mothers and friends is expected.  This is your opportunity to show your business and services to potential customers face to face!!  Complete the form below to register for the event!
Wabash Valley Bridal Showcase includes: 
–8 x 8 Booth 
–Bridal Fair Booklet with "Business Card" ads
–Multimedia Advertising
–Listing of registered brides with contact information
–Promo ads on WZDM, WWBL, WBTO, WUZR, WTYE, WAOV, WQTY, WTAY, and WJPS
–Live mentions during broadcast on February 23rd
–Plus 24 thirty second ads on WZDM, or WUZR, or WBTO, or WJPS, or WTYE
–Sponsors will be listed (with links if applicable) online at
WZDM, WAOV, WUZR, WWBL, WTYE, WQTY, WBTO, and WJPS sites
Total Investment: $375.00*
Contact Jessica Hallman at Events@OriginalCompany.com to secure your booth!!