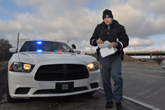 The 78th Indiana State Police Recruit Academy completed their graduation ceremony in the Indiana State Capitol Rotunda Thursday evening.
After the commencement address, the oath of office for the 54 new state police officers was delivered by Justice Mark Massa, of the Indiana Supreme Court.
Each new trooper was then presented their badge.
The ceremony marked the culmination of 22 weeks of intense training that exceeded one-thousand hours.
Each graduating trooper has been assigned to one of 14 State Police Posts across Indiana.
Among the 54 graduates was Teresa Bowling of Huntingburg who is assigned to the Jasper Post
Chance Humphrey of Springville and Samuel Wagner of Mitchell have been assigned to the Bloomington Post.
William Clark of Sullivan and Andrew Mattern of Terre Haute are assigned to the Putnamville Post.
Thad Decker Jr. of Brazil is assigned to the Lafayette Post and Clay McBridge of Spencer has been assigned to the Lowell State Police Post.