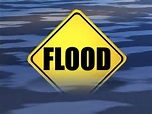 The Martin County Sheriff's Department is reminding motorists to turn around and don't drown.
A driver had to be rescued from their vehicle Wednesday on Highway 450 near Fred Sims Road.
The driver was rescued by an Indiana Conservation Officer, Martin County Sheriff's Deputy and Indiana State Trooper.
The driver was trapped in their vehicle, waist deep in water, for an estimated 20 to 25 minutes.